9,205
876
Joined Mar 29, 2002
Teamfat mentioned incorporating more steamed dishes
https://cheftalk.com/threads/october-2020-challenge-soy-product.108668/post-612748
In the West, we're pretty used to steaming vegetables.
Vegetable Steamer. One of my favorite items of the kitchen as a kid was the UFO-like unfolding steamer basket.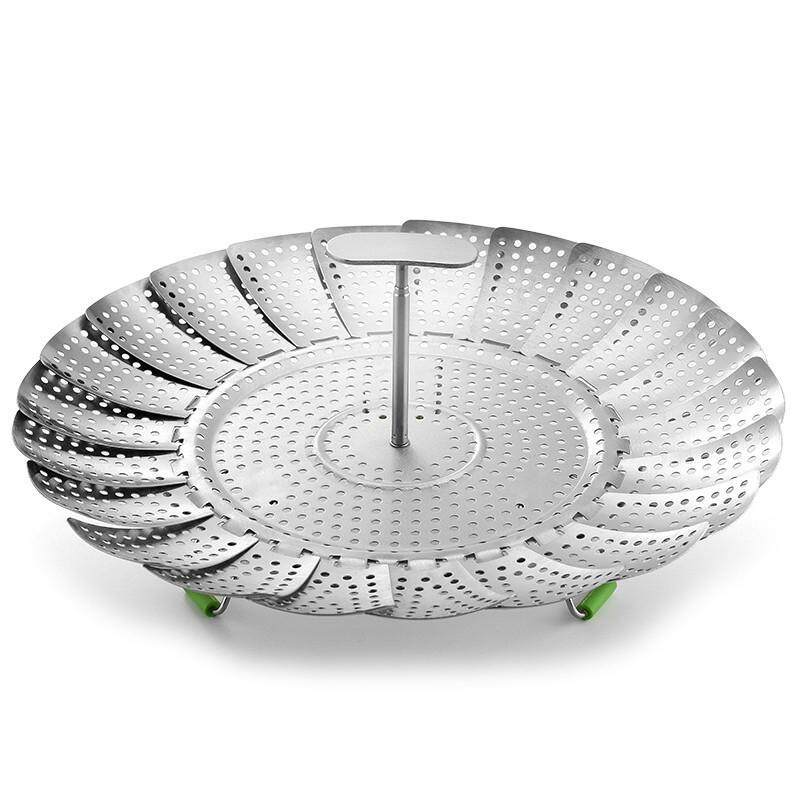 This holds the items out of the water and adapts to pot size with the folding edges. These work fairly well if you can lift them out of the pot and keep them balanced while doing so. I've spilled plenty of brocollin out of mine. They also work fine for a serving or two of asian dumplings.
Pasta insert. I use my pasta insert for steaming more than I do for pasta. I primarily use it to steam tamales as many other steamed items would be difficult to remove from a deep steaming pot.
Steamer insert. Besides pasta inserts, it's pretty easy today to find a pan with steamer that fits on top and uses the same lid as the pot itself. While usually for vegetables, mine do get pressed into dumpling duty when I'm have dim sum feast. Or just steaming a single serving steamed egg. For steamed eggs, you'll usually cover the top to keep water from condensing on the surface.
Make-do in the West. I enjoy what Jacques Pepin does with turkey to simplify the roasting and improve texture. He uses a large stockpot and wads of aluminum foil to hold the bird out of the boiling water.
https://cooking.nytimes.com/recipes/12941-jacques-pepins-steamed-and-roasted-turkey
Jeff Smith advocated using a tuna can and removing the top and bottom. That worked better when cans had more than two pieces. Modern cans are usually stamped to shape from a single blank of metal, then a lid is glued and pressed on. It used to be that the can was rolled up from a sheet of metal with separate tops and bottoms. Small cans for chiles and mushrooms can still be found this way and I have a couple of different sizes in my kitchen, mostly for cutting biscuits or timbale molds. But they also work as a steaming base and can be used in multiples to match the size of what you're steaming. It seems most of the cutter molds could work for this as well if they're tall enough for water level needed. Use enough to balance what you're steaming.
You could also put a small cake/pastry rack on top of such things. A round cake rack may fit well in your wok as a steaming rack all on it's own. And of course, racks are available for this purpose at the asian grocer. While checking mine recently, the largest size they had was 21 cm which I thought sat a little low. You couldn't put a plate with a fish on it for example. So still useful, but size can be an issue. They also sell a legged rack for holding a plate of what of whatever.
Bamboo steaming basket
These are readily available in asian grocers and mainstream. You'll pay a lot less in an Asian grocer. The 6-8 inch sizes strike me as too small to be that useful for serving more than 1 or 2 people. Additionally, they need a round bottom wok to fit well. A flat bottom wok may not have enough room for the water below the basket. I think this is a case where a 12 inch set of these baskets is the right decision. You can steam a good batch of dumplings and are also big enough to hold a plate for fish or ribs or whatever. But if you're regularly feeding 4 or more, 12 inches and 2 layers isn't enough. You can buy multiple sets and stack them, but the heat does decrease as you go higher so you'll have to do some monitoring and managing of things. I see this even in just 2 layers.
Dumplings and other food will often stick to the bamboo basket. So frozen bao often come with a parchment paper liner to set under the bao while you steam. I cut parchment paper for my own steaming and dumpling cooking. Or you can use most any edible leaf as a liner. Cabbage, lettuce and that sort of thing are used traditionally. If all you can find is corn husk, I don't see a problem using that either.
make do in the East
Wooden Chopsticks have a few different tricks for steaming.
You can set them up criss-cross in the wok and then rest a plate on them. This also works well in flat bottom woks. You don't want to use plastic chopsticks as they'll bend under the load and heat. And you need to watch out if using the short ones from take-out as they may not leave enough space for the water below. This technique is particlarly handy as the high lid of a wok lets you steam a
chicken
this way, or a whole head of cabbage--handy for making cabbage rolls
For a small serving of dumplings, another chopstick trick is possible using just a pair to hold a line of dumpling across them as demonstrated
at 4:10 in the wok and on a small scale while cooking some ramen.
If youre going to steam something large like a fish, you should spend a few dollars for a specialized lifter. It looks a lot like a lifter you'd use for removing hot canning jars, but the end is just metal, not rubberized. It packs down small, is cheap in store, about $3.00. On-line they seem to be about $8.00. These stretch out to lock around the lip of the plate or many bowls and let you lift the cooked food straigh up and out without tipping the food off the plate.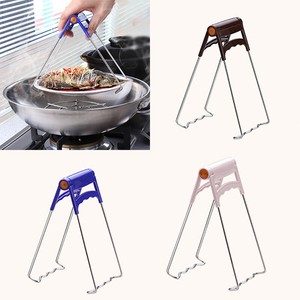 Dedicated steamer. For my family, I needed more capacity than the common basket provided. And I wanted to steam whole fish that simply didn't fit in the 12 inch steamer basket on plates I could remove. Mine's only two layers plus the base for the boiling water, Steamed eggs again.
And I really do recommend you steam fish. Whole fish is traditional, but even fillets come out great. Jayden Hair at The Steamy Kitchen has my favorite version of Steamed fish .
https://steamykitchen.com/132-chinese-steamed-fish.html
Last edited: