I am new to the forum and enjoying reviews of so many knives. I am in the process of upgrading some knives and decided to start with the set I will be replacing.
I received a set of Henckels knives as a gift over 15-years ago from my dad.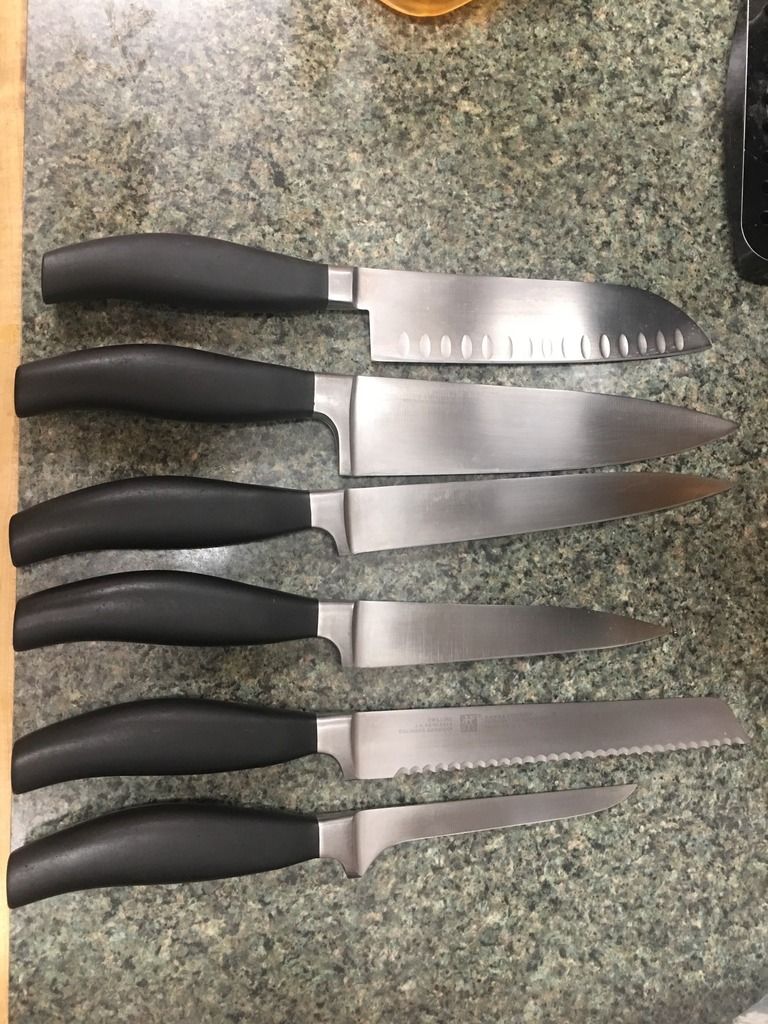 The knives served me well for many years. Admittedly I have not done well at keeping them as sharp as I should. Over the last year I've been learning to sharpen on a water stone. I have room to learn, but got better edges recently.
The bolster on most knives does not lead well to this style of sharpening.
The knives had adequate out of box sharpness and have lasted a long time with minimal care. The handles are durable and comfortable for larger hands.
I dropped the Santoku once and chipped the blade. I contacted Henckels who replaced the knife despite my user error.
I find myself using the santoku most, the flat blade chops better and sharpens easiest. It works well for veggies, but never use it with meat.
I don't use the 8" chef knife much as I struggle to be the tip sharp on the higher curved point. The back doesn't sharpen well with the bolster shape. I spent some time on the whetstone last week to try and get more use of this knife. (My new knife arrived today-Misono Swedish steel gyuto 240mm, may not use this much again). The smaller chef knife has a flatter profile that I find easier to chop with and keep sharp. I use this much more frequently with meat prep.
As a home cook I don't find myself using the carving much outside of the
holidays
. I've never really put the edge on it that it needs. The edge has similar bolster shape challenges to sharpening the rear of the blade.
The bread knife works well. I could use pointers on best sharpening methods. Currently I try to use a ceramic rod in serrations.
The boning knife if useless to me. The shape is odd, difficult to sharpen, and I don't ever feel like it works well on meat.
Not pictured is a serrated 6" utility knife, 3 and 4" pairing knives.
Last year I found a Miyabi 7000 Pro small deba (I will write about it later). I bought it for he interesting shape and aesthetics. (I know, wrong reasons). I keep it hidden from my wife so I can keep a good edge on it.
Recently my dad gave me a 9.5" MAC damascus carving knife. It motivated me to upgrade some key knives and leave this set for the household general use and abuse.
Other new additions I will write about upon receipt and use:
1. MAC Professional 5" pairing knife
2. Misono 240mm Swedish gyuto (first impression is wow!)
3. Honmamon 150mm mono steel honesuki
I'm interested in a kiritsuke or similar blade, I just like the profile.